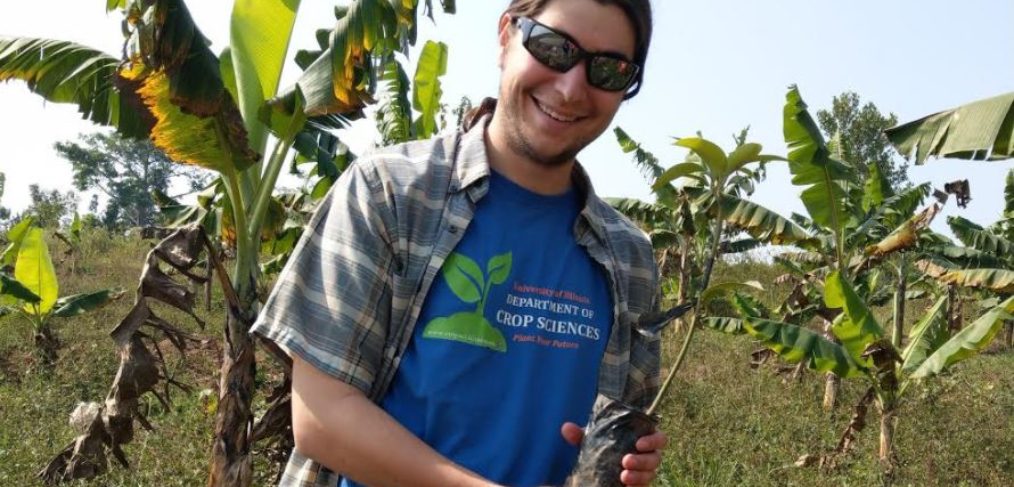 Meet our Senior Agronomist: Ivan "Alex" Dozier
At an early age, Ivan developed a passion for working with plants, particularly studying Native edible and medicinal species. At just nine years old, Ivan was featured along with his father, also named Ivan, on the cover of OnEarth magazine for their work to establish 8 acres of traditional tallgrass prairie.
"Agriculture has always been a family pursuit, and a passionate vocation at that," said Ivan. "I got my first job pollinating corn with Pioneer when I was 14, not counting all the time spent helping on my grandpa's farm before I was a teenager."
Ivan was very active in his high school FFA program, serving three years as an officer and winning award in Forestry, Soils, and Public Speaking, among others and would cap off his FFA career as the recipient of the DeKalb Agricultural Accomplishment Award.
After working five summers for Pioneer, Ivan started his Bachelor's program at the University of Illinois studying Crop Sciences. As his career progressed, Ivan pursued a minor in Atmospheric Sciences under the direction of Agrible Co-Founder, Eric Snodgrass.
Once receiving his Bachelor's Degree in Crop Sciences, Ivan was accepted into graduate school at Illinois where he received a dual assistantship for teaching and research.  Ivan taught classes in Introductory Horticulture and Crop Growth & Management. Ivan's thesis research revolved around the concept of precision cover-cropping. Through his thesis work, Ivan was able to capture short-term influences of cover crop on soil physical and chemical properties.
Upon graduation, Ivan joined the Trait Development team at Bayer CropScience primarily working with regulated soybean varieties.
In 2017, Ivan was introduced to IntelinAir through a fellow Illinois graduate and Nabor House alumnus, Dr. Harold Reetz, who selected Ivan for the role of agronomist for IntelinAir. Ivan fell in love with the cutting-edge technology and potential to work directly with growers in his home state. Ivan has worked diligently to use his passion and knowledge to connect the world of technology to his agricultural roots.
"Even today there is no way to tell what direction IntelinAir's technology will take us," said Ivan. "Technology is becoming so integrated into our agricultural systems that today's marvel becomes tomorrow's necessity.  As we continue to build on the foundations of the past, we also look up to the possibilities of the future, where we see that truly 'the sky's the limit'."
Ivan is responsible for aerial image analysis and agronomic field scouting, pairing what we see from the air with the agricultural issues that are occurring at ground-level.  Additionally, Ivan works directly with customers as part of our sales and customer support team, and provides support to the product team through visual and statistical data analytics.