AGMRI uses imagery to identify down corn or stalk damage that has caused snapping, leaning, or broken plants. 
The Issue
Using AGMRI, a farmer and crop advisor viewed the aerial map and observed a test plot with several different hybrids and one specific hybrid had stalk lodging issues due to wind. Discussing the situation with the seed representative, it was determined this hybrid performs better when planted at lower populations, as higher planted populations tend to negatively affect the hybrid in the example. 
Following the observance of down corn, they collaborated with a seed representative on possible causes. It was determined the hybrid performs best under lower populations and the plot was planted at a higher population rate then recommended.   
Evaluating Down Corn With AGMRI
To look for down corn, start by utilizing AGMRI's aerial imagery.  In reviewing the imagery, look for areas that have a "ruffled" appearance. The aerial image looks "ruffled" because the corn is now laying down, leaning, or bent over, and no longer in neat traditional rows.  The infrared map also will show the same "ruffled" look.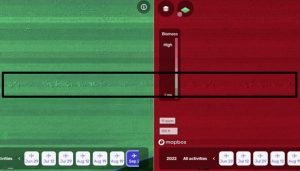 Scouting Corn Tips
When scouting corn, stalk quality issues could be due to several factors.  Consider the following to narrow down the possible cause:
Plant tissue with disease—The disease could have caused weak stalks, check AGMRI historical flights for disease risk

Visible nutrient deficiency on corn leaves

Breaking or snapping of the stalks 

Check for corresponding insect chewing

If the plant is actively growing, the hybrid may be vulnerable to greensnap

Stalk lodging versus root lodging

Population/Stand Count- could be too high for the soils or the chosen hybrid

Seeding depth – could be too shallow for proper nodal root development

Soil Type differences related to down corn — use AGMRI to overlay soil types to view any correlation

Hybrid characteristics

Weather issues – such as hail damage injury that can make stalks more susceptible to insect and disease damage
Contact us for more information or to schedule an AGMRI demo.