Refreshed Website Provides New Resources to AGMRI Users
INDIANAPOLIS – June 8, 2023 – Intelinair today announced a refresh of Intelinair.com with updated information about who we are, what we do, and how the company collaborates with farmers and ag retailers as a leading ag tech provider. The newly redesigned website offers users one source for both extensive AGMRI® information and Intelinair company news.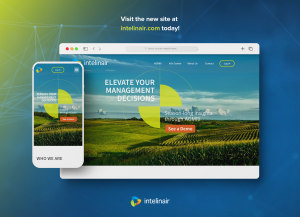 The new responsive website features several elements, including:
AGMRI – Learn more about AGMRI features and the multiple plans available for the AGMRI platform, as well as recent new in-season offerings, such as drone and nitrogen management. Check out FAQs to learn about what's included in an AGMRI subscription and how to enroll.
AGMRI Resource Center – Get a quick refresher on using the AGMRI platform with a series of videos and hear from Midwest customers about how they use AGMRI in their operation to improve productivity.
Info Center – Read all the latest news, blogs, and use cases in our integrated searchable new Info Center.
About Us – Find general information about Intelinair, including fast facts, collaborators, and recent recognitions, along with an updated listing of career opportunities.
Demo Requests and AGMRI Login Access – View a demo or request a personalized demo, and customers can easily log in to the AGMRI app.
Visit the redesigned Intelinair.com website for more information about Intelinair and its flagship product AGMRI, or to schedule an AGMRI demonstration.
---
About Intelinair
Intelinair elevates agronomic management decisions by providing insights all season long to farmers and ag retailers through its easy-to-use interactive platform AGMRI. High resolution aerial imagery from fixed wing airplane, satellite, or drones provides whole field views increasing efficiency by prioritizing fields and offering assurance that fields are monitored and reviewed for timely decision making and identifying sustainability opportunities. Intelinair analyzes millions of acres in the U.S. and several other countries from its headquarters in Indianapolis, Indiana. Take action through informed management decisions at agmri.com.
®Trademark of IntelinAir, Inc.