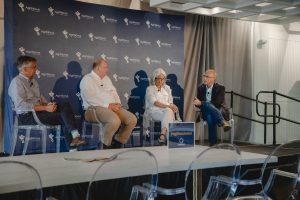 Is 2023 the year that #agtech consolidation accelerates? AgriNovus Indiana supporters and community and agtech and agribusiness leaders convened at its quarterly Quadrant event for an evening of conversation + networking, diving into where the agtech innovation economy sits today, the underlying banking system's significant challenges of late + Indiana's opportunity to seize momentum. The panel discussion – Consolidation, Capitalization and Innovation in AgTech – included Intelinair CEO Tim Hassinger, + Chief Product Officer of Inari Claudia Nari and Allos Ventures Partner David Kerr.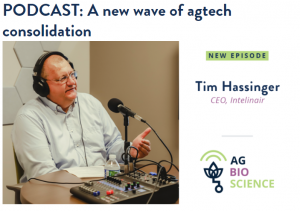 Earlier this year, Hassinger also spoke on the topic of agtech consolidation on the AgriNovus agbioscience podcast. Listen here.
---
About Intelinair
Intelinair elevates agronomic management decisions by providing insights all season long to farmers and ag retailers through its easy-to-use interactive platform AGMRI. High resolution aerial imagery from fixed wing airplane, satellite, or drones provides whole field views increasing efficiency by prioritizing fields and offering assurance that fields are monitored and reviewed for timely decision making and identifying sustainability opportunities. Intelinair analyzes millions of acres in the U.S. and several other countries from its headquarters in Indianapolis, Indiana. Take action through informed management decisions at agmri.com.
®Trademark of IntelinAir, Inc.